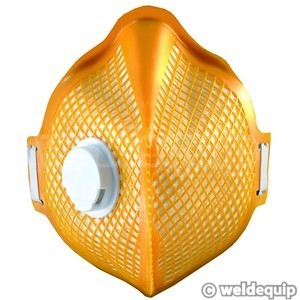 Disposable Respirator Mask
ESAB Filtair A-3V
High level P3 filter protection
For welding fumes, grinding, polishing, finishing etc.
Sorry, this product has sold out.

The ESAB Filtair series of disposable respirator masks use the very latest filter technology to give lower breathing resistance, whilst still maintaining a high level of fume protection & comfortable fit.
An outer mesh shell supports the filter media preventing collapse on to the face, and a preformed nose bridge provides a comfortable fit without the need for constant adjustment.
Fitted valve to reduce heat & moisture build up within the mask & fully adjustable straps with buckle fastening.
The Filtair A-3V offers the highest level of protection from a disposable respirator mask and is suitable for use when welding, grinding, polishing, finishing, machining etc.
EN149:2001 FFP3
Protection Level:20x WEL - Workplace Exposure Limit (Set by HSE)
Fine toxic dusts, mists, fumes
Very fine toxic dusts, mists, fumes
Metal fume
Oil/Water based particulates

There are no items in your shopping cart