We are currently closed for the February Half-Term and will be accepting orders again from Monday 18th Feb.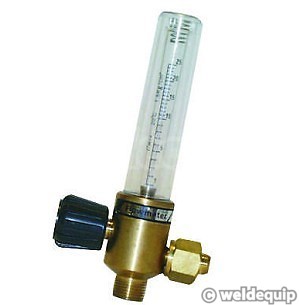 Gas Flowmeter
For precise gas flow setting with MIG & TIG
2 Flow ranges available
£ 11.80 (inc VAT)

0-14 LPM Gas Flowmeter
£11.80
(inc VAT)

0-25 LPM Gas Flowmeter
£11.80
(inc VAT)
Connected to the gas pipe outlet (3/8"BSP) on your regulator a Flowmeter greatly increases the accuracy of gas flow control.
Available in 2 flow ranges, 0-14 LPM for TIG and lighter duty MIG welding, or 0-25 LPM for heavier duty welding applications requiring a higher gas flow rate.
NOTE: Flowmeters are designed to be connected to industrial type gas regulators with a threaded outlet (3/8" BSP) and will NOT fit disposable canister type regulators or the more basic type refillable gas cylinder regulators without a threaded outlet, ie.where the gas pipe just pushes on to a brass 'tail' on the bottom/side of the regulator.