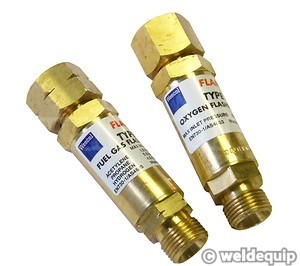 Flashback Arrestors
Wescol Flamestop® Type 83 Inline
Minimum Safety Level Requirement
Premium Quality British Made
Guaranteed Safe!
£ 16.85 (inc VAT)
Absolutely essential safety devices that must be fitted to all Oxy/Fuel gas equipment to ensure H&SE compliance, and the operators own peace of mind.
The Flamestop ® Type 83 connects directly to the gas regulator & will prevent a flame travelling back to the gas cylinder in the event of a flashback. Protecting both operator & equipment, they are the most economical type of Arrestor & provide the minimum safety level requirement. Designed to withstand a number of minor flashbacks, should this type of unit be subject to a severe flashback, the device's thermal element will be activated - completely isolating the regulator and gas source - and must then be replaced with a new unit.
3/8" Bsp gas regulator fitting and 3/8" Bsp gas hose fitting.
Fuel gas models are suitable for use with acetylene, propane, hydrogen & natural gases. Oxygen models can also be used with high pressure air.
Features Include
Sintered stainless steel flame arresting element
Thermally activated shut off valve
Gas non-return valve
Dust filter
Standards
Designed & manufactured in the UK to comply with international safety standard EN 730 and independently tested by H&SE (UK), BAM (Germany) and UL (USA).


There are no items in your shopping cart