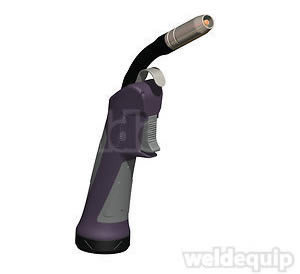 Euro-Connection MIG Welding Torch Type 15
Parweld SB150 Premium Euro-Torch
NEW Pro-Grip™ Model
Suitable for machines up to 180 amps
3 & 4 metre lengths available
From £ 49.05 (inc VAT)

3 Metre Torch
£49.05
(inc VAT)

4 Metre Torch
£53.10
(inc VAT)
Parweld's new Pro-Grip™ range of premium euro-torches are just about the best quality MIG welding torches available for sensible money.
Far superior to all the economy torches on the market (including Parweld's own blue handled "Everday" range), and with a definate quality advantage, we find them much nicer to use so well worth spending that little extra on.
The new Pro-Grip™ design sets these torches apart from other leading names in the industry.
Benefits
New Pro-Grip™ Handle design. Integrated rubber pads on the handle allow the user to relax without losing their grip. Improved locking mechanism on the Worldwide Patent, screw-less handle design allows even quicker servicing – without the need for tools.
Hyperflex ™ cable assemblies are much more flexible than other torch cables and have the highest heat & abrasion resistance of any known cable.
Increased ball joint diameter at the torch handle improves movement independent of cable resistance & a soft rubber cable support provides further flexibility in comparison to the spring steel type used on economy torches.
The gun plug housing that connects to the socket on the front of the machine is a lot more substantial than the Eco models, offering improved cable support, so better wire feed.
All brass thread machine-socket connections give better current transfer and are less susceptible to cross threading as with economy plastic threaded versions.
Telescopic electrical connection pins in the gun plug housing to avoid possible 'shearing' damage associated with the fixed pin economy type.
Fully interchangeable spare parts with other popular brands of Type 15 torch.
Specifications
SB150A Air Cooled Torch
Rated: 180 Amps CO2, 150 Amps Mixed Gas @60% Duty Cycle
Suitable for 0.6 -0.8mm mild steel wire, 1.0mm aluminium
EN60974-7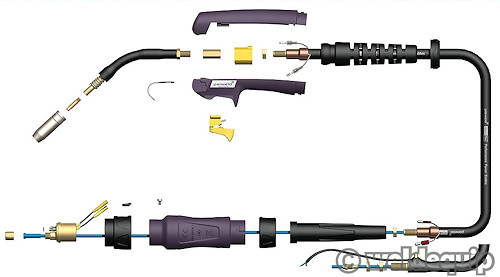 There are no items in your shopping cart