We are currently closed for the February Half-Term and will be accepting orders again from Monday 18th Feb.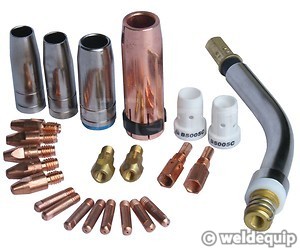 Type 25 Euro-Torch Consumables
Front end Euro-Torch parts - Tips, Shrouds etc
Industry standard spares used on all Type 25 euro-torches
Widely used in the light fabrication market
From £ 2.48 (inc VAT)
*NOTE: All spares listed are from the Parweld PREMIUM range.
The quality of torch spares varies enormously! The Premium range offers the very best performance & longevity over cheap copies. Contact Tips/Tip Adaptors are manufactured using a harder, higher grade of copper for the very best conductivity, and Gas Shrouds have maximum wall thickness for superior performance.
Click schematic to enlarge: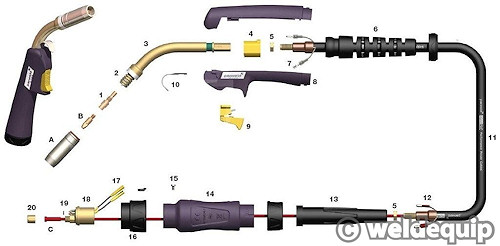 Parweld replacement front end spares for the premium SB250 torch and fully interchangeable with other makes of Type 25 Euro-Torch.
OEM quality parts.