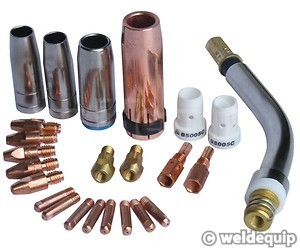 Type 15 Euro-Torch Consumables
Front end Euro-Torch parts - Tips, Shrouds etc
Industry standard spares used on machines up to 200 amps
Fit many different makes & models
Also used on some direct wired torches
From £ 1.95 (inc VAT)
*NOTE: All spares listed are from the Parweld PREMIUM range.
The quality of torch spares varies enormously! The Premium range offers the very best performance & longevity over cheap copies. Contact Tips/Tip Adaptors are manufactured using a harder, higher grade of copper for the very best conductivity, and Gas Shrouds have maximum wall thickness for superior performance.
Click schematic to enlarge: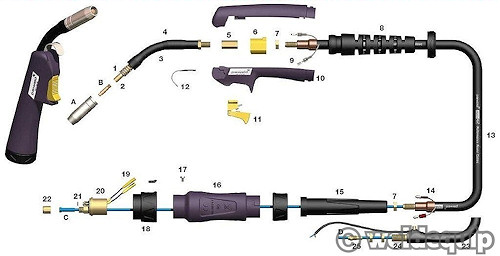 By far the most widely used MIG torch spares for machines up to around 200 Amps. As well as Type 15 Euro-Torches the contact tips & gas shrouds (NOT the swan-neck) will also fit some direct wired torches used on machines without a Euro-fitting socket; if you are not sure on compatibility please check with us and we will do our best to match your spares.
*Used by most leading brands but please do check the dimensions are correct before ordering as some manufacturers do use their own variants.
Gas Shrouds are push-on.
OEM quality parts.
There are no items in your shopping cart