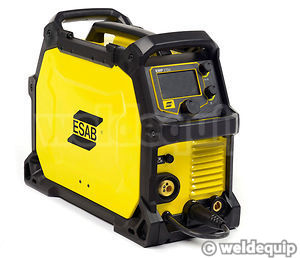 ESAB Rebel™ EMP 215ic Multi-Process Inverter Welder
Best in class MIG, Flux-Cored, MMA & TIG
Multi-Voltage input 110v/230v for use anywhere. 18kg weight
Up to 240 Amps output
Exclusive sMIG intelligent Synergic control
Bullet proof build. 3 Year Warranty
£ 1500 (inc VAT)

ESAB Rebel™ EMP 215ic Multi-Process Inverter Package
£1500
(inc VAT)
Sorry, this product has sold out.

ESAB Rebel™ TIG Torch ET17v 4 Metre
£112.45
(inc VAT)
Part No.0700 300 869
Sorry, this product has sold out.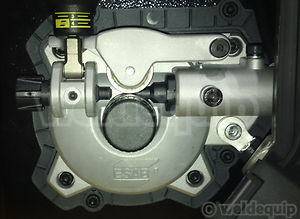 Weld anything, anywhere with ESAB's new Rebel™ Series. Multi-process MIG, Flux-Cored, MMA & TIG with best in class performance & multi-voltage input for use on site from 110v supplies, or in the workshop from 230v supplies. Use from Generators -4.5kVA on 110v or 7kVA from 230v.
Rugged build quality with steel unibody construction & 5 handle 'roll cage' means it will take what you throw at it. ESAB cast aluminium wire drive for dependable wire feed.
Easy to use 4.5 inch colour TFT display for selection of weld process & adjustment of all parameters, loaded with exclusive features such as multi-lingual user manual and even spare parts listings.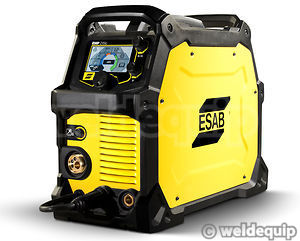 sMIG Intelligent Synergic Control
Select material & wire diameter and the machine will do the rest in sMIG mode; continuously adapts and 'learns' the operators technique to provide a perfect, stable arc. More experienced users can make adjustments to all parameters in manual mode, with a comprehensive settings guide on the inside of the wire feed compartment door.
What's in the box?
ESAB Rebel™ EMP 215ic Multi-Process inverter power source
ESAB MXL 200 3 metre MIG Torch - standard Euro-fitting
3 metre MMA lead with ESAB 200 electrode holder
3 metre earth return lead
4.5 metre gas hose with quick-fit machine connection
Drive rolls & contact tips for 0.6 -1.0mm wire
ESAB OK Aristorod 12.50 0.8mm 5kg spool of wire

Technical Specification
Supply Voltage Range: 95 - 270V, 1 Phase 50/60Hz
kVA Rating: 4.5kVA 110V, 7kVA 230V
Output Range: 5A - 240A from 230v, 5A - 150A from 110V
Dimensions: 584mm L x 229mm W x 406mm H
Weight (machine only): 18.2kg
Protection/Insulation Class: IP23S
Standards of Conformance : ALL
Warranty: 3 Years
Printable leaflet with detailed specifications available here.