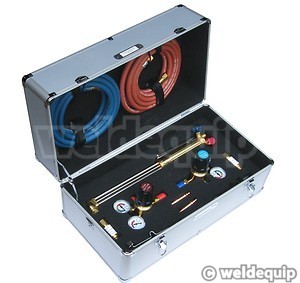 Oxy Acetylene Gas Cutting Set
Contractors 18/90 Gas Cutting Torch Set
British made by WESCOL
Twin Gauge Regulators as standard - not the Plugged type
Fitted aluminium Site Case
Cuts up to 250mm (10") mild steel
Not your usual cheap imitation kit offered all over the Internet! we have put together this set using quality, British Made equipment from WESCOL. Guaranteed to perform and guaranteed safe!
Ideal for all general gas cutting applications it features twin gauge gas regulators as standard - not the usual plugged type - for accurate pressure control & cylinder contents monitoring.
Supplied in a tough Aluminium case so ideal for site applications.
Supplied with
WESCOL 2 gauge Acetylene gas regulator 25 Bar single stage
WESCOL 2 gauge Oxygen gas regulator 300 Bar single stage
WESCOL Flamestop Regulator mounted Flashback Arrestor for Oxygen
WESCOL Flamestop Regulator mounted Flashback Arrestor for Acetylene
WESCOL 18/90 NM Cutting Torch
Fitted hose set with 3/8" BSP safety valves – 10 metres x 8mm bore
ANM Cutting Nozzle 1/32"
ANM Cutting Nozzle 3/64"
Sparklighter
Outfit Spanner & gas cylinder key
Fitted Aluminium site case with key lock & shoulder strap
Safety Goggles
Standards: Full third party testing approvals to British, European and International standards. Certificate of Conformance available on request.
There are no items in your shopping cart