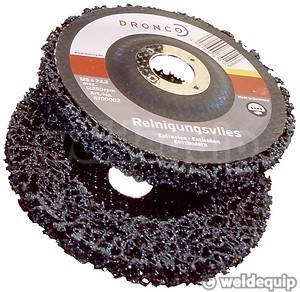 Coarse Cleaning Fleece 115mm
Clean & Strip Disc
Manufactured in Germany by Dronco
115mm (4 1/2 inch), 22mm bore
Fast, low cost delivery
DRONCO Coarse Cleaning Fleece, or "Clean & Strip Discs", are outstanding for removal of paint from car panels.
Manufactured from synthetic coated nylon they will not score the surface of the work-piece and are an ideal surface preparation tool.
Useful for removal of old paint, rust, welding spatter, gasket materials, and also removal of thermal bluing after welding stainless steel. Good on wood & plastics too!
Glass fibre backed, they will fit straight on to a 115mm angle grinder.
In Action:
There are no items in your shopping cart