We are currently closed for the February Half-Term and will be accepting orders again from Monday 18th Feb.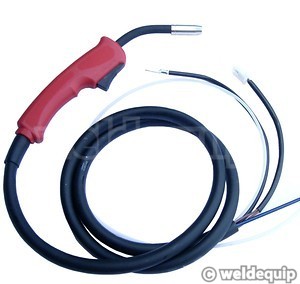 Clarke Hobby MIG Torch Assembly
Complete replacement torch assembly
3 types available
£ 65.80 (inc VAT)
Complete replacement torch assemblies covering most of the range of Clarke hobby MIGs, Red & Blue handle models, past & present.

Clarke Torch - Gas only
£65.80
(inc VAT)
For straight gas only machines including current models: Pro 90, 100E, 150TE, 110E, 135TE, 151TE.

Clarke Torch - Blue, gas & gasless
£65.80
(inc VAT)
This torch assembly will fit the dual purpose models with a Blue Case with two sockets on the machine front panel for polarity reversal. 100EN, 105EN & 151EN models.

Clarke Torch - Red, gas & gasless
£65.80
(inc VAT)
For dual purpose models in a Red Case with internal polarity reversal under the wire feed assembly. 110EN, 130EN & 160EN models.