We are currently closed for the February Half-Term and will be accepting orders again from Monday 18th Feb.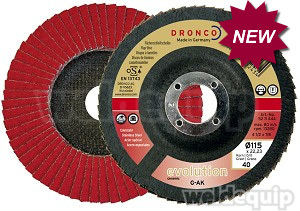 Ceramic Flap Disc 115mm
New Ceramic Abrasive Material
Manufactured in Germany by Dronco
3 times better removal rate and life then Zirconium discs
115mm (4 1/2 inch), 22mm bore
Available in 40,60 and 80 Grit
Fast, low cost delivery
£ 3.89 (inc VAT)
Select Grade:

40 Grit (Coarse)
£3.89
(inc VAT)

60 Grit (Medium)
£3.89
(inc VAT)

80 Grit (Fine)
£3.89
(inc VAT)
The all new Ceramic DRONCO Flap Disc sets new standards in abrasive discs. A highly innovative new Ceramic material gives outstanding stock removal rate due to it's self-sharpening grain. NO other disc comes close!
Unrivalled performance & service life on most materials including:
Stainless Steel
High Alloyed Steel
Titanium based Alloys
Nickel based Alloys
Brass & Bronze
Mild Steel.
The 80 grit disc can be used for finishing bodywork welds and leaves a fine finish ready for painting. The coarser 60 & 40 grit discs provide a higher material removal rate and are ideal for weld finishing on general fabrication work.