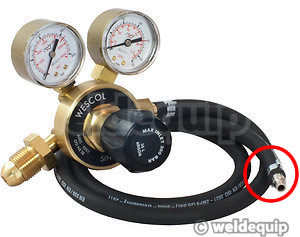 Refillable Gas Cylinder Conversion Kit - Argon Mix SE
Upgrade your hobby MIG from disposable gas canisters to refillable Argon or Argon/CO2 mix gas cylinders
Side entry style for Air Products and rent free type cylinders
Everything you need (apart from the gas cylinder)
Premium quality British made industrial equipment
Guaranteed safe!
Superior nickel plated brass connection for a 100% gas tight seal & increased longevity over plastic versions
SIDE ENTRY REGULATOR SUITABLE FOR HORIZONTAL GAS VALVE OUTLETS - AIR PRODUCTS & 'RENT FREE' TYPE
This kit allows you to upgrade from expensive disposable gas canisters to a refillable Argon/CO2 mix gas cylinder.
If you find you are doing more welding than first anticipated then you will find the cost of the equipment upgrade and the refillable cylinder rental are quickly recovered in comparison to disposable gas canister costs!
These cylinders are available through nationwide networks of cylinder centres and agents such as BOC Gases, Air Products & Air Liquide. Generally they are rented on an annual contract with an additional charge for each refill, but there is a growing network of independent gas suppliers who provide refillable gas cylinders on more attractive terms for home use.
Kit Includes:
High Quality, British Made Industrial 2 Gauge Argon Mix Gas Regulator
Solid brass construction with twin gauges, one showing the pressure inside the cylinder, and the second showing output pressure calibrated in LPM (Litres Per Minute) for an accurate flow setting.
Quality Rubber Gas Hose & Fittings
The hose adapts the little white plastic tube on the back of your hobby MIG to an industrial bore pipe connected to the gas regulator. Quick connect for easy fitting/removal.
Safety First

Cylinder gases are stored under ever increasing high pressures and can be extremely dangerous, so the regulator needs to be up to the job. Some of the cheap, imported gas regulators on the market have been shown to fail catastrophically in laboratory safety tests.
WESCOL have been manufacturing gas regulators in the UK for over half a century. These regulators meet all international safety standards, and are proven the world over.

There are no items in your shopping cart