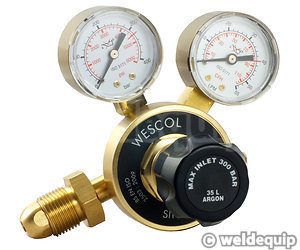 Argon and Argon Mix Gas Regulator SE
Single stage 2 gauge regulator
Side entry style for Air Products and rent free type cylinders
Standard fitting for portable & industrial size gas cylinders
Premium quality British made
Guaranteed safe!
SIDE ENTRY REGULATOR SUITABLE FOR HORIZONTAL GAS VALVE OUTLETS - AIR PRODUCTS & 'RENT FREE' TYPE
Suitable for MIG & TIG applications, this gas regulator will fit all types and sizes of UK Argon and Argon/CO2 Mix gas cylinders (excluding Air Products "Integra" cylinders which already have a regulator built in to the cylinder valve).
Solid brass construction with twin gauges, one showing the pressure inside the cylinder, and the second showing output pressure calibrated in LPM (Litres Per Minute) for an accurate flow setting.
300 Bar rated for service at increased gas cylinder pressures, so fully compliant with the latest gas cylinder regulations; the gas hose outlet is standard 3/8 inch BSP right hand thread.
Safety First

Cylinder gases are stored under ever increasing high pressures and can be extremely dangerous, so the regulator needs to be up to the job. Some of the cheap, imported gas regulators on the market have been shown to fail catastrophically in laboratory safety tests.
WESCOL have been manufacturing gas regulators in the UK for over half a century. These regulators meet all international safety standards, and are proven the world over.

There are no items in your shopping cart