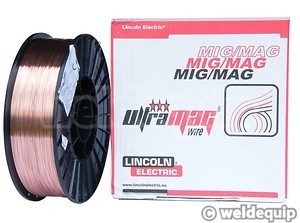 MIG Welding Wire Mild Steel 5kg
ULTRA-MAG® and SUPRAMIG® by Lincoln Electric
Best quality MIG welding wire available
0.6mm and 0.8mm diameter
From £ 21.45 (inc VAT)

0.6mm Ultra-Mag® wire 5kg
£26.30
(inc VAT)
Sorry, this product has sold out.

0.8mm Supramig® wire 5kg
£21.45
(inc VAT)
Sorry, this product has sold out.
A premium quality mild steel MIG welding wire from Lincoln, ULTRA-MAG® / SUPRAMIG® is manufactured to the highest standards in the industry and is guaranteed to perform.
Consistent wire feed and outstanding performance
Will not rust quickly like cheaper brands
Tight, stable arc for extremely low spatter
Excellent bead profile and surface appearance
5Kg. 8" (200mm) diameter plastic spools.
0.6mm diameter wire is the very best for thin sheet such as car body panels. 0.8mm diameter is suitable for around 2.0mm and above mild steel.

Rusty welding wire is a major cause of wire feed problems with MIG welders. If you have run rusty welding wire through your machine you will need to fully service the welding torch before a consistent, reliable wire feed can be achieved again, irrespective of wire quality.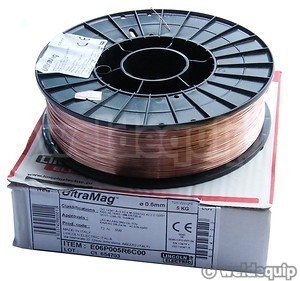 There are no items in your shopping cart