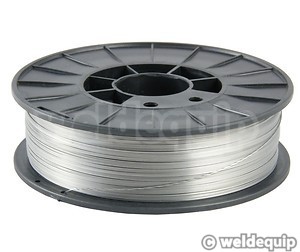 Gasless MIG Welding Wire 5.0kg
Larger 8" Diameter Spool
0.8mm Precision Layer Wound
Self-shielding, flux cored gasless MIG wire on the larger 8" diameter spools. Equivalent to over 10 of the smaller spools, so they represent much better value for money & less wire spool changes.
2" diameter hole centre so they will fit most types of hobby MIG machines & also machines with full size 15kg spool holders.
Precision layer wound for reliable feeding, 0.8mm diameter performs much better on thin sheet than the 0.9mm diameter.
AWS: E71T-GS

Gasless wire runs on a different polarity than standard, gas-shielded wire so can only be used on machines with a polarity reversal feature (set to torch negative).
Self-shielding gasless wire produces considerably more fumes than standard wires so ensure adequate ventilation and welding fume protection.
There are no items in your shopping cart