We are currently closed for the February Half-Term and will be accepting orders again from Monday 18th Feb.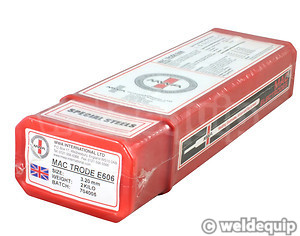 312 Dissimilar Welding Electrodes
All purpose maintenance & repair arc welding rods
2kg re-sealable plastic boxes
2.5mm & 3.2mm diameters
From £ 54.75 (inc VAT)

312 Dissimilar Electrodes 2kg 2.5mm
£55.45
(inc VAT)

312 Dissimilar Electrodes 2kg 3.2mm
£54.75
(inc VAT)
Specially designed high strength austenitic type electrode of duplex structure.
Can be used for overlaying and joining dissimilar steels to one another; mild steel to stainless steel, high & low carbon steels, spring steels, tool & die steels, cast steels and steels of unknown composition.
High resistance to cracking coupled with good wear, heat, impact & corrosion resistance make these a superb universal repair rod.
Manufactured in England to exacting standards, they are easy to use with a smooth arc, low spatter and even bead formation.
AWS E312-17
Ultimate Tensile Strength: 840 N/mm sq.
Hardness: 220 BHN
Can be used with both AC & DC (+)
Current Range
2.5mm : 50 – 70 Amps
3.2mm : 90 – 110 Amps