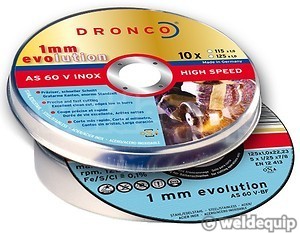 1.0mm Evolution Cutting Discs 115mm
Ultra-Thin 1.0mm Cutting Discs
Manufactured in Germany by Dronco
115mm (4 1/2 inch), 22mm bore
Supplied in metal case containing 10 discs
Fast, low cost delivery
Sorry, this product has sold out.
The DRONCO AS 60 V Inox Evolution cutting disc is the landmark of ultra-thin 1.0mm discs.
The very best available, they are suitable for cutting a wide range of materials including Stainless Steel & Mild Steel with minimum effort. Extremely fast cutting with minimal burring or thermal bluing, together with an ultra-long service life, make them the 1.0mm disc of choice.
Supplied in a steel storage tin containing 10 discs. "Lifetime-Plus" sealing at the factory in Germany ensures they last at least 30% longer than other discs whilst in storage.
There are no items in your shopping cart