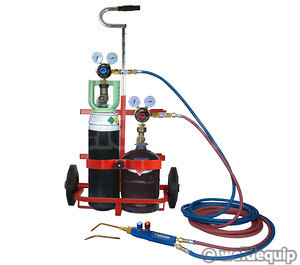 Portapack Gas Welding/ Brazing Equipment Set
Premium Quality British Made Equipment
Everything you need apart from the oxy-acetylene cylinders
Portable gas cylinder trolley included
Ideal for refrigeration engineers etc.
The best value Portapack Sets on the web! BRITISH Manufactured equipment - not inferior quality imported copies as offered with most similar sets - for the very best in performance, reliability and guaranteed safety.
These welding & brazing equipment sets are ready to connect to most types of portable Oxy/Acetylene gas cylinders, with a wheeled trolley included, and are ideal for refrigeration engineers, mobile welding/heating applications, and garage workshops.
Flashback Arrestors fitted as standard for the ultimate in safety & complete piece of mind. We have noticed some other kits supplied online that do not even INCLUDE essential Flashback Arrestors, and others that use inferior imported versions that have been proven to be unsafe!
Supplied with
WESCOL 2 gauge Acetylene gas regulator 25 Bar single stage
WESCOL 2 gauge Oxygen gas regulator 300 Bar single stage
WESCOL Flamestop Flashback Arrestor for Oxygen
WESCOL Flamestop Flashback Arrestor for Acetylene
Fitted hose set with ¼" BSP safety valves – 5 metres x 6mm bore
WESCOL Lightweight welding Shank
WESCOL Lightweight welding Mixer
Lightweight welding Nozzle No.2
Lightweight welding Nozzle No.5
Portable Gas Cylinder Trolley
The gas cylinder trolley has solid rubber tyres & a height adjustable cylinder clamp to accommodate both BOC Size E & K (Flamepack 10) and Size X & M (Flamepack 20) portable oxy/acetylene gas cylinders (NOT the 'half-size' Flamepack 50 type).
Other leading gas suppliers portable cylinders will also fit.

Related Products: