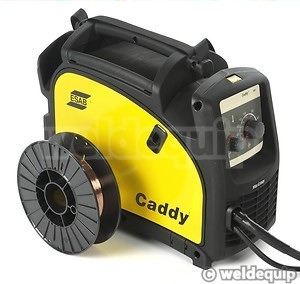 ESAB Caddy® MIG C160i
160 Amp 230v Inverter based MIG
Just 11.4kg Weight
Automatic Control - Set Plate Thickness & Weld!
2 Year On-Site Warranty
£ 679 (inc VAT)

ESAB Caddy® MIG C160i
£679
(inc VAT)
Sorry, this product has sold out.
The latest offering from world leaders ESAB, the Caddy® MIG C160i is Inverter based with built in PFC - Power Factor Correction - making it much more energy efficient & allowing 30% more welding power from the same fuse size. Weighing in at just 11.4kg (excluding wire) it is housed in a tough, impact resistant casing and can be operated from long extension leads (up to 50 metres) & also generators (AVR stabilized, 5.5Kva rated), making it an ideal on-site tool for repair & maintenance.
Dial in the plate thickness, from 0.5mm to 4.0mm, on the main control knob & weld - it's that simple! Voltage & wire speed are controlled automatically and you can also manually fine tune the arc 'Hotter' or 'Colder' for positional welding etc.
The C160i can also be used with gas-less, flux cored wires with simple polarity reversal inside the machines wire feed compartment. Accepts 5Kg wire spools as standard, optimised for use with 0.8mm solid wire.
Simplicity in use, ultra compact & lightweight, also make it an ideal choice for the discerning home workshop user & colleges etc.
Features include:
Set & Start - Dial in material thickness & weld
11.4 kg Weight
Generator & Long Extensions Compatible
2 year on-site warranty - the best in the business
Low cost, industry standard front-end torch spares
Supplied with:
4.5m Gas Hose Assembly with machine quick-connector (fittings
for gas regulator connection are supplied separately with Ready to Weld Kit)
3 Metre mains cable with fitted 2 Pin European style plug
3 Metre MXL180 Torch Assembly
1Kg Spool ESAB OK Autorod 0.8mm Wire
Shoulder Strap
2 Years On-Site Parts & Labour Warranty Cover
Technical Specification:
Amps Range: 30A (15.5V) - 160A (22V)
Supply Voltage: 230V Single Phase
Duty Cycle @35%: 150 Amps
Duty Cycle @ 60%: 120 Amps
Duty Cycle @ 100%: 100 Amps
Weight: 11.4kg
Dimensions: 449mm length x 198mm width x 347mm height
Enclosure Class: IP23C
Standards: IEC/EN 60974-1, EN 60974-05, EN60974-10
Operating Temperature: -10 to +40C