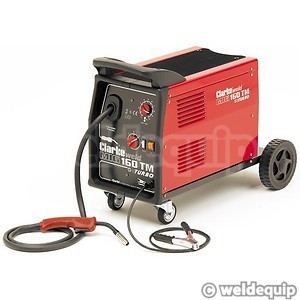 Clarke 160TM MIG Welder
30 - 150 Amps
Operates from a household 13 amp supply
Designed to be used with a refillable Argon/CO2 cylinder
For more frequent home & small workshop use
We have now discontinued Clarke products
If you intend doing anything other than very occasional welding you should be looking at a machine that runs from refillable type gas cylinders. The disposable gas canisters supplied with smaller models only last a few minutes so for more regular welding jobs, such as a car restoration, they can soon work out very expensive.
The Clarke 160TM is designed to be run straight from a refillable type Argonmix gas cylinder with the appropriate gas regulator already supplied, so there is no upgrading required. The chassis has an inbuilt portable cylinder carrier on the rear so all can be wheeled together safely around the workshop.
With Clarke's proven & reliable wire feed system and class leading build quality, the 160TM is an ideal machine for home & small garage workshops doing more frequent welding jobs.
Welds up to around 5mm mild steel maximum thickness.
Supplied with
Gas regulator for refillable Argon/CO2 mix cylinders
Wheel kit
Faceshield
Full instruction manual
12 month warranty
You will need a spool of wire (5kg is the smallest the 160TM will accept) & refillable Argon/CO2 mix gas cylinder to be able to use.
Specifications
Input Voltage: 230v
Minimum Amperage: 30 Amps
Maximum Amperage: 150 Amps
Amperage @ 60% Duty Cycle: 75 Amps
Amperage @ 20% Duty Cycle: 130 Amps
Open Circuit Voltage: 18 – 28
Welding Range: 0.8 – 5mm Mild Steel
Wire Spool Sizes: 5kg – 15kg
Wire Diameters: 0.6mm – 0.9mm
Power Settings: 6
Dimensions: 750mmL x 370mmW x 550mmH
Weight: 36kg
Turbo Fan-Cooled
Spares and Support
The best after sales support in the UK on selected Clarke models!

We have been selling, servicing & repairing Clarke welders for over 20 years. Unlike the many 'Box-movers' we have excellent product knowledge & carry an extensive range of replacement parts from stock, with a dedicated support line available for our customers:- (please quote original order number and/or delivery post code).